We are just a few days from the start of the NFL season. From now on, it will be 6 months of death meetings full of emotions, tackles, clash of helmets, last minute miracles and cheerleaders encouraging their teams. As it is tradition every season, EA Sports welcomes all fans of the sport with a new delivery that, apart from having the license of all teams and players, also implement some novelties to keep the interest in the series. For the latest installment of Madden NFL 18, there are two very important developments that represent the biggest change compared to deliveries in recent years.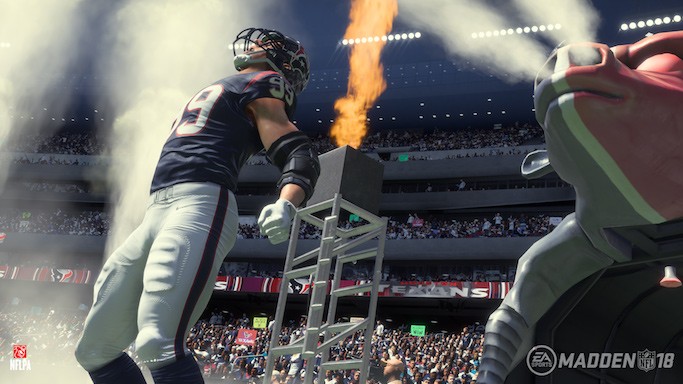 American football is one of the most popular sports in the United States. Some would argue that it may be the largest of them. Their professional league, the NFL, is one of the most expensive in the world and much of it is because they do things in a very professional way. Players who manage to enter one of the teams are not due to luck, but to years of effort and dedication to become almost perfect human machines.
All that media power and sport can be seen in the Madden series, which for many reasons easily surpassed its competition in previous decades to consolidate now as the only official franchise of the NFL.
Despite this, the game does not have much success outside the American Union. Although there are many sports fans in Mexico and Latin America, they are not enough to make it a success. That does not seem to worry Electronic Arts, since in the United States it is always one of the best selling games of the year. It is the equivalent of FIFA sales in our region, which year with years is the most popular and not so much to the north of the continent.
But that the game is not so successful, does not mean that it is bad. In fact, it is one of the best sports series that exist.
From Anonymity To Fame
For the first time in the series, there comes a story mode that is titled "Longshot". When they announced it in the past E3 2017, I could not stop thinking that they followed in the footsteps of FIFA 17 when they did the same. Apparently, they did quite well and that's why they decided that Madden also had its story.
We take the role of a young promise named Devin Wade who aspires to be bought in the Professional League Draft. He plays as a Quarterback and had glorious years in his high school years, where he played for the Lorghorns of the University of Texas. But a tragedy took him away from the sport for 3 years and now is looking for another opportunity.
Wade is a resident of a small Texas town called Mathis, which in real life has less than 5,000 inhabitants. His best friend, Colt Cruise, is receiver and together they have created a very lethal pair for the opposite defense, but things will not be so easy in their way to be professionals.
In a "lucky break," Devin is chosen to be part of a reality show in which young American football promises compete with each other to prove if they have enough ability to reach the NFL. This program is called Longshot, hence the name of the game mode.
The gameplay is much more passive than I expected. Most of the time you will be watching interactive cinematic, where sometimes you will have the option to make important decisions that will affect the way other characters see you. They could even affect your career. When you introduce yourself, you will have 2 or 3 options to consider and time limit to do so. If you do not choose anything, it will take as if you had selected the one that is highlighted. It's a mechanic that reminded me a lot of Telltale Games games, but they happen less often.
It does have more interactive sections, but they do not become whole games like the FIFA 17 story mode where we played a whole season. Here instead they will be limited to some individual challenges and parties with special rules. For example, doing quarterback field trials will be done with Quick Time Events. If the faults, they will qualify you in a negative way in your professional history. The few occasions in which you will participate in matches, will be limited to encounters with unique rules. That is to say, you will play confrontations in which there will be no First and 10 or in those that you have to annotate no matter what it costs.
The story is designed to be enjoyed by fans of American football, or so that more casual fans learn new concepts. That is to say, there is a section in which you will be applied a kind of examination of knowledge of very complicated subjects of the sport. At the same time they will explain to you quickly what each letter and number means that quarterbacks need to memorize to play the plays.
In all, the story of Longshot lasts exactly 4 hours. That was very little time, especially because they needed more interactive sections. I do not know if this is because it would take up a lot of space on the disk, but if they did it in FIFA 17 and 18, I get the impression that they could do it here too. Once you complete the mode, you will unlock your character cards for the Ultimate Team.
And by the way, the game is completely in English. Not even the story mode subtitles are in Spanish.
More Realistic Graphic Engine
Madden NFL 18 joins the list of Electronic Arts games using the Frostbite graphics engine. Although it was created by the Dice studio for the Battlefield series, it has also been used in other titles such as Mirror's Edge Catalyst, Mass Effect: Andromeda, Need for Speed, Star Wars: Battlefront and Plants Vs. Zombies: Garden Warfare.
The visual change is noticeable from the first game you play. Players look much more realistic, as do stadiums and animations. However, it does not escape that some characters of filling in the stands or surrounding the court, they look very generic and even with bad modeling.
But the graphics engine does not only affect the visual aspect of the game, it also does it in physics. We can see that in tackles and collisions. The impacts look more natural, although they do not escape from occasionally there are players with the physics of the so-called ragdoll, in which they look like ragdoll figures and without any weight.
Traditional Game Modes
Outside of the new story mode, you can find the modalities that are already tradition in the series. First, you can hold a fast match of up to 4 players. You choose the level of difficulty, which are: Arcade, Simulation and Competitive. You change the details of duration, uniforms and more details before starting the game. You can also choose whether it is a normal duel or the Super Bowl.
Another modality is the Franchise. Here you choose your favorite team and handle all aspects of it. From hiring players to training. You can even create your own plays. You can be either coach, owner, player or all of them.
The Ultimate Team arrived a few years ago to stay. You begin to form your team from the Draft stage and complement it with all the cards you will acquire in the game store. You can compete against the teams of your friends and participate in leagues online.
For those who want to learn to play, there is a special mode called Skills Trainer, which works a little as a tutorial and as a review of the basics of the game. You have to complete activities that range from knowing the function of each position and how the passes are launched, until you try strategic moves. It also has an option called Gauntlet, in which you perform different individual and fast challenges. The goal is to complete as many of them and there is even a kind of Boss Battles.
As for the gameplay, as I mentioned before, there are 3 styles: Arcade, Simulation and Competitive. The way of playing changes radically between them, since in the first one it is much more simple and spectacular, while in others it requires a lot of knowledge and strategy.
Arcade is the recommended mode to start. It is easy to follow the plays, counts with suggestions from the coach and there are sequences of buttons to receive the ball better or tackle more effectively.
Conclusions
Madden NFL 18 returns to give us a very solid sports game. It's an engaging experience that fans of all levels can enjoy. Although it must be true, it is still a game very similar to previous years. There is little new offer.
The story mode is interesting, with a script of very good quality. Too bad it lasts too little and the interactive sections are scarce. But without a doubt, it will be a way that will continue to appear in future deliveries.
The game is available from August 25 for PlayStation 4 and Xbox One. By the way, gamers can buy madden 18 coins online to make a finely personalized Madden team.